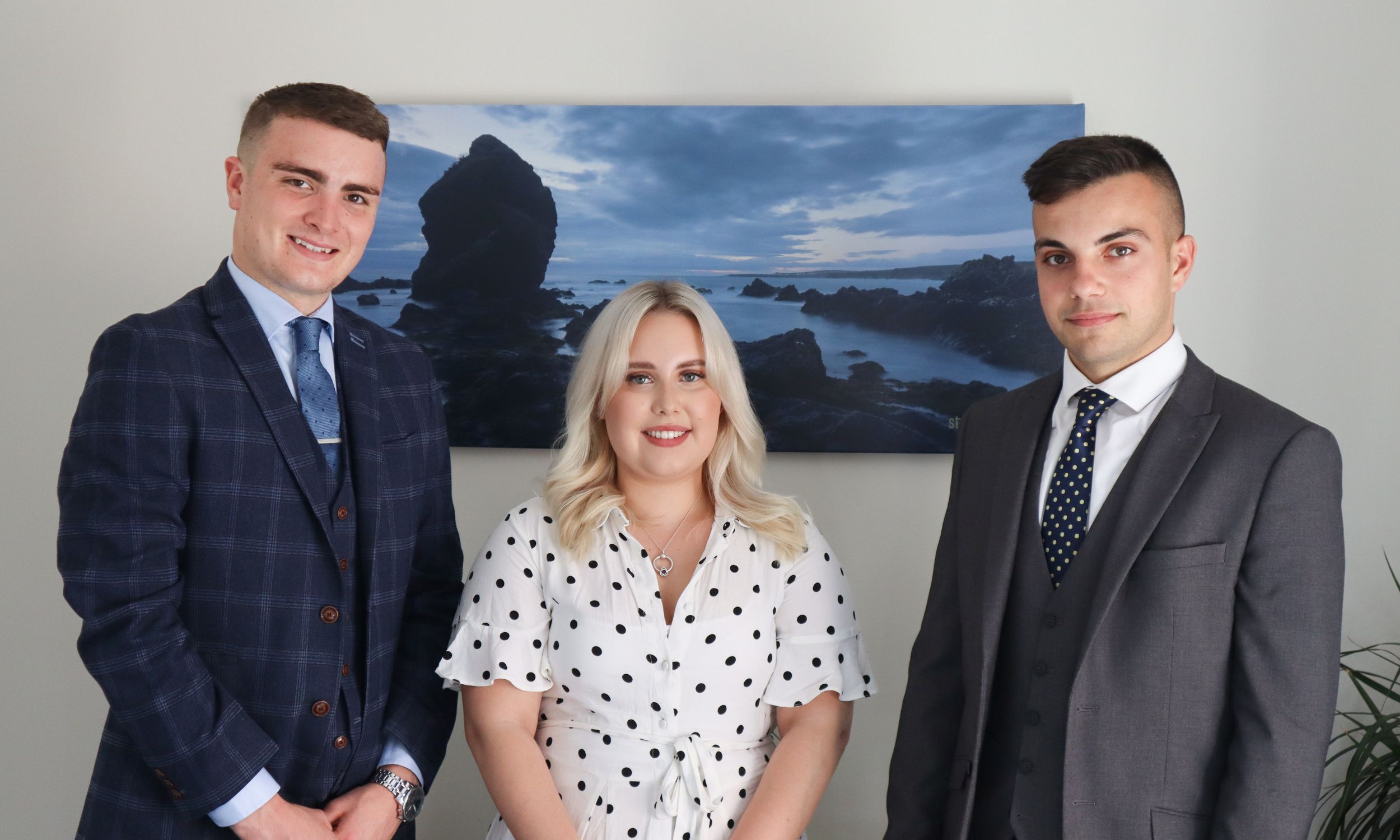 12 Sep

Celebrating Five Years of Douglas Home & Co's Trainee Triumph

Douglas Home and Co are delighted to celebrate five years of our renowned traineeship that can put young candidates without a university background on the path to becoming fully-fledged accountants.

So far, the Professional Development Programme has helped nine young accountants from Hawick to Edinburgh forge a career in the industry.

The programme has now welcomed its sixth generation of trainee accountants and has been praised for giving young people their start in the accountancy sector, especially those who don't feel that higher education is a path that suits them.

Since its establishment in 2018, all nine traineeship graduates have worked across various teams in the firm while undertaking further professional qualifications with the Association of Chartered Certified Accountants (ACCA) and the Association of Taxation Technicians (ATT).

Robbie Anderson, a former trainee who now works in the Agricultural department, said: "I chose to go down this route as I felt that getting real-world experience would be more beneficial for my learning and progression in the industry.

"Douglas Home & Co have supported my development of technical expertise by providing tailored one-to-one mentoring. As a result, I now have a diverse knowledge of all departments, which allows me to advise clients on a range of topics."

Jake Kerr, who joined the trainee programme in 2019, commented, "Upon leaving school, I was unsure of what career path I planned to pursue, but joining the traineeship scheme was one of the best decisions I've ever made – it made sense right away. The programme provided me with the opportunity to gain real industry experience and qualifications while earning. I will likely be qualified at a similar time than if I had opted to go into further education.

"From the get-go, I was given all the right tools to learn the new trade and have been supported with advice and learnings ever since. The programme has given me an excellent foundation to grow in the industry and get fully qualified."

Another ex-trainee, Jody Cree, was one of the first to go through DH&Co's Professional Development programme. She has since risen through the ranks, now applying her expertise in the firm's Advisory Department. Jody said: "DHCO have been very supportive, and I'm personally very happy I took this route as opposed to further education. I've been able to learn new skills at my own pace and create bonds with the brilliant team here at Douglas Home & Co – it has been a brilliant experience so far."

Applicants to the scheme are expected to be educated to National 5 or Higher level, but there is no requirement for higher education experience or qualifications. The scheme has supported, on average, two trainees per year since its inception.

Two of the current company directors rose through the ranks in Douglas Home & Co, having started as juniors in the firm. Darren Thomson and Sheryl Macaulay are both now Directors at Douglas Home & Co, carrying out their training while working at the company.

Sheryl, who joined as a junior at the firm in 2002, said: "I know first-hand the benefits of training in-house; it opens so much opportunity for daily learnings and provides an incredible support system and career stepping stone. It offered me an important career route into financial services without completing a degree.

"We're very pleased that the Professional Development Programme continues to go from strength to strength as it celebrates its fifth anniversary this year. It's rewarding to watch a breadth of young talent come through the system and add fresh thinking to the firm.

"As we expand further, it's important that we keep offering young adults these opportunities. The scheme embodies our belief in nurturing local talent, which is at the core of the Douglas Home & Co's culture."

As well as the Professional Development Programme, Douglas Home & Co also takes on Graduate Trainees who gain professional qualifications with the Institute of Chartered Accountants of Scotland (ICAS) through an alternative professional development pathway.