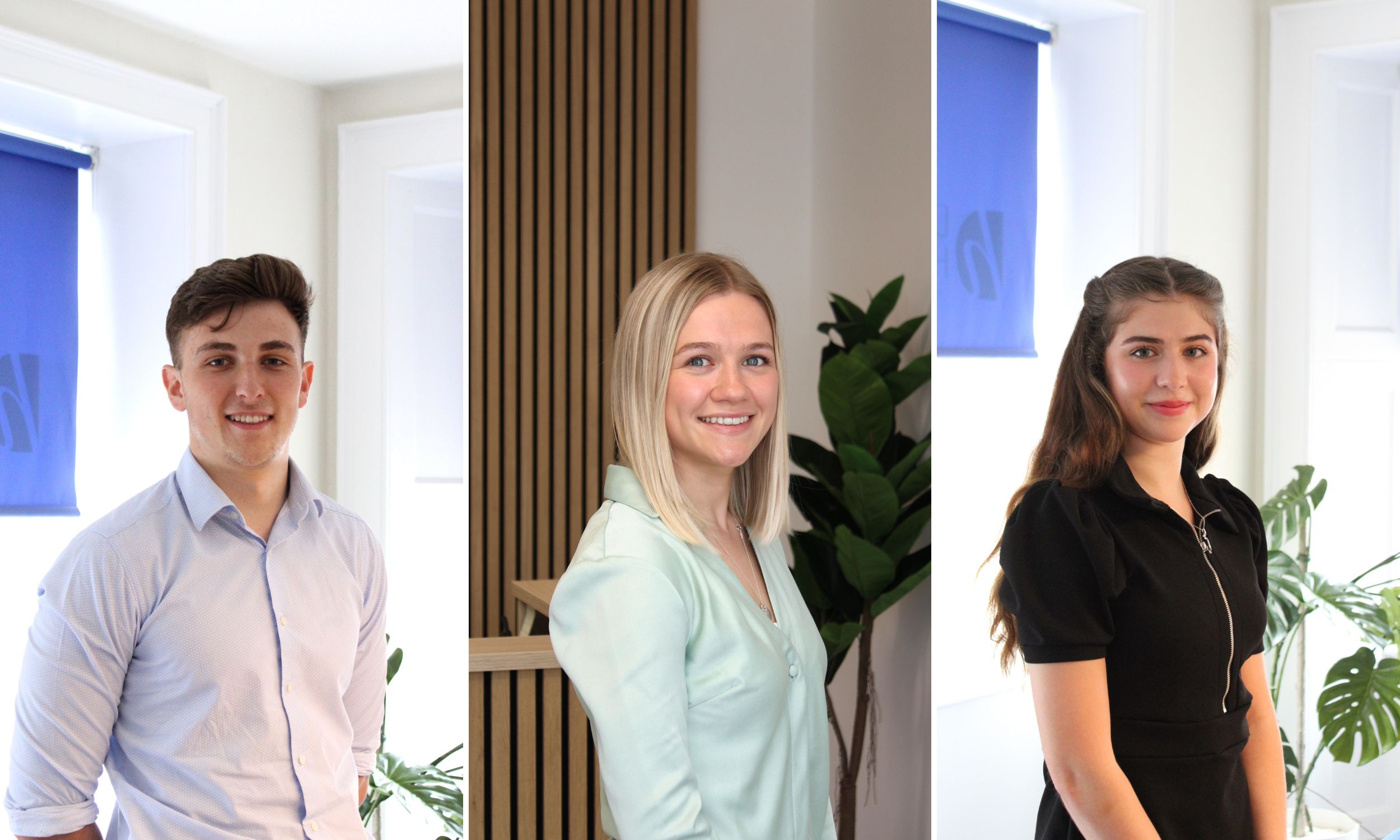 14 Jun

Life as a DH&Co Graduate Trainee

Douglas Home & Co has welcomed three graduate trainees to the team since the end of summer 2021. Kayley Hart joined the team in August 2021 after graduating from the University of Glasgow in June 2021 with a degree in Accounting and Finance. Aidan Oldham was welcomed to the firm in September 2021 having graduated from Edinburgh University with a degree in Finance and Business. While Nicole Thomlinson came on board in May 2022 as part of the Advisory team following the completion of her studies of Scots and English Law LLB at Aberdeen University.

When asked how they have found getting stuck into the workplace and client accounts, Kayley replied, "After studying the subject for 4 years at university, it is great to get to work on real, live accounts and use my existing skills and knowledge. Working with accounts is a lot about problem-solving, and it really gets your brain working. You often find that no two days are the same, which makes the learning more enjoyable. I have also been working in the audit department which has helped broaden my perspective of accounts."

Nicole commented, "I am loving getting stuck into the workplace, there is a great working environment at Douglas Home & Co."

Aidan added, "Working in the advisory department is engaging due to the large variation in the types of jobs and clients that you encounter. There is a lot of responsibility to research individual jobs, however, working within the team means you are afforded the opportunity to work and learn alongside experienced staff members."

Kayley, Aidan, and Nicole all agreed that their skills have developed a lot since joining DH&Co, with Kayley commenting "Although you do learn a lot at university, nothing compares to getting to work on real-life accounts with real companies behind them. I think that you learn a lot quicker this way."

Nicole added, "I feel like I am getting to understand the foundations of what processes must be completed within the advisory team."

When asked what interested him about the advisory route, Aidan replied "I felt that the range of distinctly different jobs suited me more than choosing one specific compliance subject. It has provided me with the opportunity to gain a wide knowledge base and it is extremely interesting with every day being unique."

On what attracted them to join Douglas Home & Co, Kayley commented, "What appealed to me the most about DH&Co was the idea of working within a busy accountancy firm while still being in the Borders. It is an exciting company to work at, and one that is continuously growing. There is a great feel about the firm, and everyone is very friendly." Nicole added, "I like that Douglas Home & Co aims to build strong personal relationships with their clients."

The graduate trainees looking forward to progressing in their careers while working at Douglas Home and Co. Kayley has signed up for the Association of Certified Chartered Accountants, intending to sit her first exam in September. While Aidan has signed up to do the joint Chartered Accountant and Chartered Tax Adviser pathway with the Chartered Institute of Accountancy and Taxation. Having joined the firm more recently, Nicole is exploring her options as to which accounting or advisory route she wishes to take.

We look forward to seeing them both progress within their roles over the coming years and see what they achieve with the firm.